STAFF

Inquire at Front Desk anything you'd like to know about Yokosuka.

All of our staff are experts, overflowing with love, for the Yokosuka area.
Feel free to ask us about tourist spots or little-known places in the area.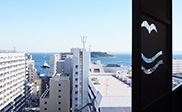 Of course, if you have any questions or concerns regarding hotel facilities or our services, or any requests, do not hesitate to ask. We will do our best to accommodate you during your stay.